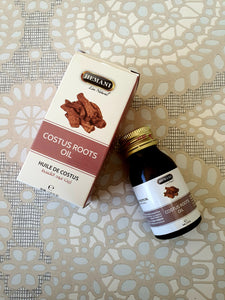 Costus Roots Oil 30ml
Oud Qust Al-Hindi (Indian Costus Root) Oil Blended with Olive Oil
Referenced in Prophetic Medicine (Islamic Medicine), Qust Al-Hindi is a natural aid that can help support cold and flu symptoms, immune system and general well-being.
Indian Costus or Qust al Hind (also known as Qist, Qust al Hindi, Kuth, Kushta or by its botanical name Saussurea Lappa). It is used to treat health issues such as asthma, migraines, allergies, stomach issues, skin issues, male sexual issues and sihr.
2. In Arabic it is called as Qust.
3. In English it is called as Costus.
4. In Hindi & Sanskrit it is called as Kusth.
5. In Latin it is called as Saussaurea lappa.
Saussurea lappa is the botanical reference for the Costus Root. The plant is grown around the Himalayan Grounds within the Kashmir region.
The therapeutic uses of the oil are owed to its stimulant, anti-microbial, anti-viral, anti-inflammatory, pain-relieving, anti-bacterial, carminative, anti-septic, expectorant, analgesic, anti-spasmodic, febrifuge, diuretic, digestive and stomachic qualities.
How to use Costus Root Oil –
- Respiratory functions are improved with Costus Root Oil inhalation. Blocked nasal passages can be cleared as a consequence.
- Energy levels can also be boosted by inhaling the oils aroma.
- Skin bruises can be treated with blends of Costus Root Oil. The essential oil is conveniently diluted in Olive Oil for ease of use. Apply the blended oil on the body for wounds to heal at a faster rate.
- For relief from body pain and aches, mix 1 teaspoon of the oil in bath tub containing water. Immerse the body in the mixture for couple of minutes to enjoy the benefits imparted by the oil for alleviation of the discomforting sensations.
Ingredients: Costus Root Oil blended with Olive Oil
Size: 30ml