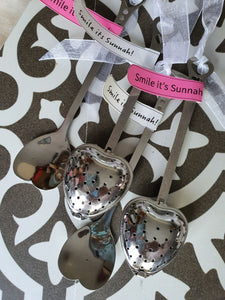 'Smile it's Sunnah' Tea Infuser/Spoon
Relax, unwind, and enjoy the great benefits from our 'Wellness Fields' Organic Tea made with a unique blend of herbals consisting of lemon grass, chamomile, lavender, mallow flower and blackseed.  This blend is an Olive Orchid Boutique favourite.
Instructions for use:
Add 1-2 teaspoons per serving of herbal tea to a small pan of water, bring to the boil and then simmer for 10 minutes.  Pour into cup and enjoy.
Steep 1 tea bag in a small teapot of boiling water for approximately 15 minutes, pour into cup and enjoy
Can be sweetened with honey